One Hot Summer
Texas is absolutely the hottest and most insufferable state in the entire nation. Forget about Death Valley, Arizona, Nevada, Florida—none of them measures up. Texas alone has the right to be known as number one, the worst. Texas Monthly Magazine August 1975 Issue
The hottest temperature ever in Texas was 120 degrees, recorded in Seymour in August 1936 and Monahans in June 1994.
ABCNews.com September 2000
The warmest month of the year is August, with a mean temperature of 86.5 degrees. The peak of the summer is July 31 to Aug. 14, with an average daily high temperature of 99. spectrumlocalnews.com June 2022
Why is Texas so Hot? State Climatologist John Nielsen-Gammon says that there reasons this heat wave is hitting Central Texas particularly hard: low moisture in the soil, weather patterns bringing in dry air from urban Mexico and climate change. San Antonio Report July 2022
There are three reasons this heat wave is hitting Central Texas particularly hard, said State Climatologist John Nielsen-Gammon: low moisture in the soil, weather patterns bringing in dry air from urban Mexico and climate change.Aug 4, 2022
---
Clear Springs and Limestone Ledges: A History of San Marcos and Hays County by G. Johnson, D.W. Kerbow, L. Simon, M. Storm, and F. Stovall has interesting historical information for great reading. For example, book two in the publication names black-owned businesses in Kyle, Texas during the early nineteen hundreds: Albert Taylor's Cleaning and Pressing Shop, John Sewell's Cafe, George Sewell's Grocery Store, Jeff Sewell's Barber Shop and Kirby Smith's Barber Shop. Rich in information about the cities in Hays County, this publication can be purchased at the Hays County Historical Commission, check the website or call the office.
---
Clear Springs and Limestone Ledges, A History of San Marcos and Hays County
Hays County Historical Commission has a great price for this publication. Come by the office on Tuesday (9am – 4pm) of every week, or the 2nd and 4th Saturday (10am-2pm) of the month. New hardcover at a cost of $45.00, shipping/handling at an additional cost. Hays County Historical Commission office is located at: 111 E. San Antonio St. Suite 104, San Marcos Texas 78666.
Click here to purchase on Amazon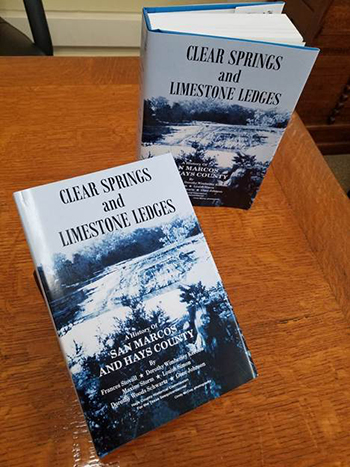 ---
Hays County Historical Commission Chair Kate Johnson Recognized by State with Leadership Award
Hays County Courthouse, San Marcos, TX (February 12, 2020) — The Texas Historical Commission presented Hays County Historical Commission Chair Kate Johnson with the John Ben Shepperd County Historical Commission Leadership Award at its recent REAL PLACES, Preserving Historic Texas 2020 Conference. Johnson also received the award in 2010.
"Congratulations to Kate Johnson on this prestigious award," County Judge Ruben Becerra said. "Her efforts to preserve the history and tell the stories of all the people of Hays County has not gone unnoticed."
Precinct 1 Commissioner Debbie Gonzales Ingalsbe congratulated Johnson, saying "This is a well-deserved award in recognition of Kate Johnson, who has done so much for Hays County in preserving our wonderful history."
The award is named for former Texas Secretary of State John Ben Shepperd, who following his retirement from law founded the Texas Historical Marker program.
Historical Commission members gave Johnson a standing ovation as she was recognized for her inspirational leadership and active community involvement. Johnson is the driving force behind such projects as the restoration of the Kyle Railroad Depot and Heritage Center, the 1884 Hays County Jail, and the Katherine Ann Porter Literacy Center.
"I am honored to receive this prestigious award," Johnson said. "My sincere appreciation goes out to the dedicated members of the Hays County Historical Commission. Their commitment as volunteers in preserving and protecting the history of Hays County plays an integral part in my receiving this distinguished award from the Texas Historical Commission. I'm also grateful to all the members of the Commissioners Court for their continuing support of our efforts."
Johnson has also recently been appointed to the Board of Directors of Preservation Texas, the only private, nonprofit statewide preservation organization in Texas.
Photo Below:
State Leadership Award winner Kate Johnson was presented with the John Ben Shepperd Leadership Award by Texas Historical Commission Executive Director Mark Wolfe (left) and Vice Chair John Crain at the REAL PLACES conference. (Photo courtesy of Friends of the Texas Historical Commission).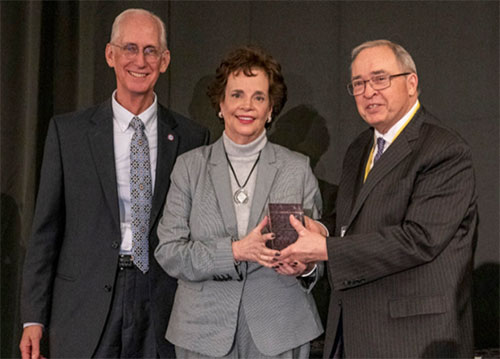 ---
Call it what you will - serendipity or a lost soul yearning for home!   Just before Christmas,  Martha Kinscherff related to the Hays County Historical Commission Cemetery Chair, Jo Landon, her discovery of a broken gravestone.  It was found among debris washed down York Creek on the former 101 Ranch near Kyle.  Jo, using an invaluable modern tool —Find A Grave ™, identified whom it belonged to and whence it came. It commemorates Margaret Clement who died on January 31, 1883, and was buried in Indianola Cemetery in Calhoun County, Texas.  Jo contacted the chairman of the Calhoun County Historical Commission, Robert Loflin.   Robert happened to be in Austin on January 4th, so arranged to pick up the stone. 
Robert was delighted, especially as his county historical commission is attempting to restore the  Indianola Cemetery which was largely abandoned after the devastating hurricane of 1886.  Margaret's stone will be reconnected to its base which still stands. 
Margaret Clement was born in south Texas on January 12, 1846, the daughter of English merchant, Robert F. Clement, and his Scottish-born first wife, Christina Wallace. Christina died while Margaret was still a little girl.  Her father then married her aunt, Margaret Wallace.  For the duration of the Civil War, her father and aunt/stepmother returned to Bath in England, leaving Margaret with her married sister, Sarah Burbank.   By the time Margaret died at age 37, the family was once again united in South Texas.
During the Civil War, Margaret was one of 12 young ladies who sailed out to Matagorda Island to present a Confederate flag to Captain J. M. Reuss' artillery company at Fort Esperanza.  Interestingly, one of the group was Eudora Inez Moore who later moved north to live with her niece, Maggie Kuykendall, on the 101 Ranch.  Perhaps this connection may hold a clue as to how Margaret Clement's stone found its way to the banks of York Creek. 
Inscription:
Sacred to the
memory of 
Margaret Clement
Born 
Jan. 12, 1846
Died
Jan. 31, 1883
"In the mansions of the blest."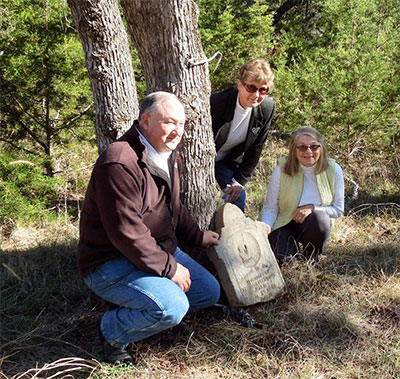 Robert Loflin, Calhoun County Historical Commission Chairman; 
Jo Landon, Hays County Historical Commission, Cemetery Chair;
Martha Kinscherff, steward at The Plant at Kyle.