Welcome to Hays County Historical Commission
---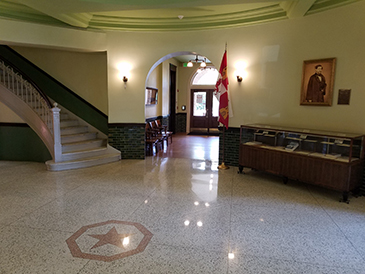 Next Commission Meeting:
August 25, 2022
Location: TBA
Agenda: TBA
The Hays County Historical Commission is a group of volunteers appointed by the Hays County Commissioner's Court for a two year term to preserve the history and cultural resources of Hays County. In addition to implementing the State Historical Marker program of the Texas Historical Commission on a local level, the Hays Historical Commission is active in the preservation of area cemeteries and historical sites. Our purpose is to provide information to the public and educational resources on the significance of our heritage in Hays County.
Since its establishment in 1953, the Hays County Historical Commission has erected markers at important sites across the county, inventoried every cemetery in the county, and conducted a survey of our historic locations. The Commission is active in nominating properties to the National Register of Historic Places, which is our nation's honor roll of significant places in our history. One of our current projects will be restoring the old jail in downtown San Marcos. The Historical Commission also publishes books and brochures pertaining to the history of the county, a list of which are available on this web site.
---
HCHC Highlights
Have a Safe Summer
Kate Johnson, Chair of the Hays County Historical Commission and commission members remind everyone to have a safe summer as August and September are predicted to be record high temperatures. 
Texas is absolutely the hottest and most insufferable state in the entire nation. Forget about Death Valley, Arizona, Nevada, Florida—none of them measures up. Texas alone has the right to be known as number one, the worst. Texas Monthly Magazine August 1975 Issue
The hottest temperature ever in Texas was 120 degrees, recorded in Seymour in August 1936 and Monahans in June 1994.
ABCNews.com September 2000
The warmest month of the year is August, with a mean temperature of 86.5 degrees. The peak of the summer is July 31 to Aug. 14, with an average daily high temperature of 99. spectrumlocalnews.com June 2022
Why is Texas so Hot? State Climatologist John Nielsen-Gammon says that there reasons this heat wave is hitting Central Texas particularly hard: low moisture in the soil, weather patterns bringing in dry air from urban Mexico and climate change. San Antonio Report July 2022
---
Interesting Facts about Hays County, Texas
1. The Texas legislature formed Hays County from Travis County on March 1, 1848. The county is named for Tennessee transplant Captain John Coffee Hays of the Texas Rangers.
2. San Marcos is the county seat for Hays where the historic courthouse is located on the downtown city square.
3. The state legislature resurveyed the Hays and Travis County lines, adding 16,000 acres to Hays County in 1955.
4. The cities that make up Hays County include Buda, Dripping Spring, City of Hays, Kyle, Mountain City, Niederwald, San Marcos, Uhland.
5. Hays County is located on the border between the Edwards Plateau and the South Black Prairie region.
---
Hays County Historical Commission "Oral History"

Hays County Historical Commission would like to invite you to view the 12 interviews from local Hays county residents. These oral interviews are educational, enlightening, and entertaining while providing a look into life in Hays County through the eyes of these residents:
Ollie Giles (August 5, 1933 - February 26, 2021)
Dr. Gwen K. Smith (September 8, 1915 - April 10, 2010)
Ofelia Vasquez- Philo (December 28, 1932 - November 1, 2017)
---
The Flowers, Grasses and Trees of Hays County
The Natural Heritage Committee is providing a new resource to Hays County residents.... information about flowers, grasses and trees that can be found in Hays County. As you walk around the neighborhood, drive down the roads, streets, and highways of Hays County, have you wondered about the flowers, grasses, or trees you see. The new resource provided by members of the Natural Heritage Committee can help you with that! Each month a newsletter will provide information that we hope will aid you with curiosity of the nature around us. There will be information and pictures of different flowers, grasses, and trees local to our area. Whether you are homeschooling, virtual learning, or just out for a walk, take a look at the digital newsletter on your phone if you like to educate yourself about the nature on your path or route.
---
Upcoming Events

Kyle Railroad Depot & Heritage Center
100 N Front Street
Kyle, TX 78640-4172
512-262-1188
kyledepot@gmail.com

Open each Saturday of the month from 10am to 2pm, and for requested special tours
Kyle Railroad Depot - More Information!

Historic Hays County Courthouse Museum
111 E San Antonio Street; First floor
San Marcos, TX 78666
512-393-2277
hayshistoricalcommission@gmail.com
Open on Tuesdays from 9:00am to 4:00pm and the second and fourth Saturdays of the month from 10am to 2pm.
Contact us to request special tours and study sessions for research purposes.