Welcome to Hays County Historical Commission
---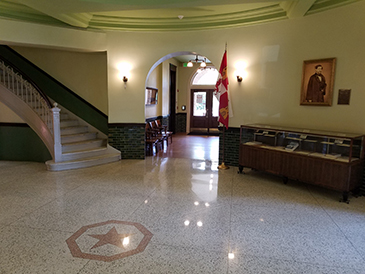 Next Commission Meeting:
Date: October 26, 2023 @ 6PM
Agenda: Click Here (PDF)
The Hays County Historical Commission is a group of volunteers appointed by the Hays County Commissioner's Court for a two year term to preserve the history and cultural resources of Hays County. In addition to implementing the State Historical Marker program of the Texas Historical Commission on a local level, the Hays Historical Commission is active in the preservation of area cemeteries and historical sites. Our purpose is to provide information to the public and educational resources on the significance of our heritage in Hays County.
Since its establishment in 1953, the Hays County Historical Commission has erected markers at important sites across the county, inventoried every cemetery in the county, and conducted a survey of our historic locations. The Commission is active in nominating properties to the National Register of Historic Places, which is our nation's honor roll of significant places in our history. One of our current projects will be restoring the old jail in downtown San Marcos. The Historical Commission also publishes books and brochures pertaining to the history of the county, a list of which are available on this web site.
---
HCHC Highlights
THe Hays County Historical Commission would like to acknowledge that it has been a pleasure serving the citizens of Hays County for January 2021 through December 2022. We hope that our historical work across the county has educated, enlightened, and engaged. Be lifelong learners, history enthusiasts, and experience all that Hays County has to offer. We thank you!
- Kate Johnson, Chair and members of the HCHC
---
Georgia Virginia (Pound) Cavett (1868-1968)
Georgia Virginia (Pound) Cavett (1868-1968) was born in Dripping Springs, the seventh child of Dr. Joseph M. and Sarah (Ward) Pound. Georgia became a teacher, and in 1890, married Mose Calhoun Cavett. Not long after their only child, Marguerite Ruperta (1895-1983), was born, the marriage ended.  Georgia, with little Marguerite, returned home where she cared for her aging parents while teaching in the local area. 
After Dr. and Mrs. Pound died, Georgia and Marguerite left for New Mexico where they both took up teaching posts until Marguerite married rancher, Charles Hammack.  To be close to Marguerite, Georgia continued to teach in New Mexico in the 1920s. She spent the summer vacation at the Pound Farmstead which was run by her widowed sister, Mittie (Pound) Sorrell.
Marguerite's husband died in 1934.  She and her three children accompanied Georgia back to the Pound House where they would live out their days.
"Miss Georgia", as she was known, was remembered as "a wonderful and beloved teacher."   She was an original member of the Hays County Historical Survey Committee, the forerunner of the current Historical Commission, and an active member of the Order of the Eastern Star. 
Georgia (Pound) Cavett, who died in her 100th year, attributed her sharp mind to solving algebra problems.  Marguerite (Cavett) Hammack inherited the Pound Farmstead which she bequeathed as a museum to Dripping Springs.
The accompanying interview (1961) is the only known recording made by Georgia.
Click here to view Powerpoint Presentation (audio and photos)
Click here for audio only (23:00 minutes)
---
The Natural Heritage Committee provides a great resource to Hays County citizens. The resource provides information about the flowers, grasses, plants, and trees seen in the Hays County area throughout the year. Designed as a monthly newsletter, information is provided to address what we might see outside in our backyards, nature-trails, parks, and properties. Enjoy reading the information, exploring nature, and observing the flora of HaysCounty. 
---
Operating Hours

Kyle Railroad Depot & Heritage Center
100 N Front Street
Kyle, TX 78640-4172
512-262-1188
kyledepot@gmail.com

Open each Saturday of the month from 10am to 2pm, and for requested special tours
Kyle Railroad Depot - More Information!

Historic Hays County Courthouse Museum
111 E San Antonio Street; First floor
San Marcos, TX 78666
512-216-0500
hayscountyhistoricalcommission@gmail.com
Open the second and fourth Saturdays of the month from 10am to 2pm. Contact us to request special tours and study sessions for research purposes.