Welcome to Hays County Historical Commission
---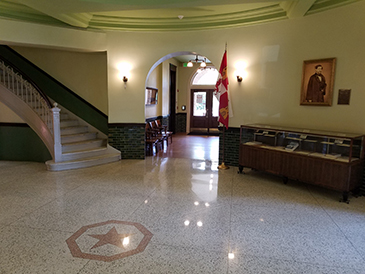 Next Commission Meeting:
June 24, 2021
Location: Buda, Texas (more information coming)
The Hays County Historical Commission is a group of volunteers appointed by the Hays County Commissioner's Court for a two year term to preserve the history and cultural resources of Hays County. In addition to implementing the State Historical Marker program of the Texas Historical Commission on a local level, the Hays Historical Commission is active in the preservation of area cemeteries and historical sites. Our purpose is to provide information to the public and educational resources on the significance of our heritage in Hays County.
Since its establishment in 1953, the Hays County Historical Commission has erected markers at important sites across the county, inventoried every cemetery in the county, and conducted a survey of our historic locations. The Commission is active in nominating properties to the National Register of Historic Places, which is our nation's honor roll of significant places in our history. One of our current projects will be restoring the old jail in downtown San Marcos. The Historical Commission also publishes books and brochures pertaining to the history of the county, a list of which are available on this web site.
---
HCHC Highlights
Celebrating Juneteenth in Hays County
The 19th Day of June -- or Juneteenth -- became a day of jubilation and liberation for Texas slaves, and today is the oldest known celebration of the ending of slavery in our nation. Juneteenth commemorates African American freedom and emphasizes education and achievement. It is a day, a week, a month marked with celebrations, presentations, picnics and family gatherings. It is a time for reflection and rejoicing. It is a time for assessment, self-improvement and for planning the future. In cities across the country, people of all cultures, nationalities and religions are joining hands to truthfully acknowledge a period in our history that shaped and continues to influence our society today. Sensitized to the conditions and experiences of others, only then can we make significant and lasting improvements in our society.
During the month of June, associations, businesses, cities, groups, individuals, and organizations within the Hays County Community will provide opportunities to reflect and rejoice, the Hays County community will celebrate Juneteenth throughout the month of June with a variety of activities and events. Visit the Hays County Historical Commission's  FaceBook page for an up-to-date calendar of events
https://www.facebook.com/Hays-County-Historical-Commission
---
The Flowers, Grasses and Trees of Hays County
The Natural Heritage Committee is providing a new resource to Hays County residents.... information about flowers, grasses and trees that can be found in Hays County. As you walk around the neighborhood, drive down the roads, streets, and highways of Hays County, have you wondered about the flowers, grasses, or trees you see. The new resource provided by members of the Natural Heritage Committee can help you with that! Each month a newsletter will provide information that we hope will aid you with curiosity of the nature around us. There will be information and pictures of different flowers, grasses, and trees local to our area. Whether you are homeschooling, virtual learning, or just out for a walk, take a look at the digital newsletter on your phone if you like to educate yourself about the nature on your path or route.
---
Upcoming Events

Kyle Railroad Depot & Heritage Center
100 N Front Street
Kyle, TX 78640-4172
512-262-1188
kyledepot@gmail.com

Open each Saturday of the month from 10am to 2pm, and for requested special tours
Kyle Railroad Depot - More Information!

Historic Hays County Courthouse Museum
111 E San Antonio Street; First floor
San Marcos, TX 78666
512-393-2277
hayshistoricalcommission@gmail.com
Open on Tuesdays from 9:00am to 4:00pm and the second and fourth Saturdays of the month from 10am to 2pm.
Contact us to request special tours and study sessions for research purposes.