Welcome to Hays County Historical Commission
---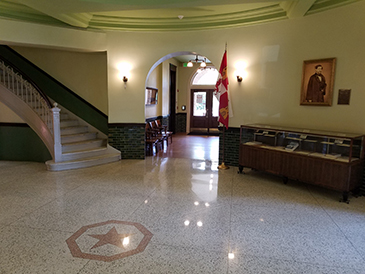 Next Commission Meeting: TBA - details coming soon!

The Hays County Historical Commission is a group of volunteers appointed by the Hays County Commissioner's Court for a two year term to preserve the history and cultural resources of Hays County. In addition to implementing the State Historical Marker program of the Texas Historical Commission on a local level, the Hays Historical Commission is active in the preservation of area cemeteries and historical sites. Our purpose is to provide information to the public and educational resources on the significance of our heritage in Hays County.
Since its establishment in 1953, the Hays County Historical Commission has erected markers at important sites across the county, inventoried every cemetery in the county, and conducted a survey of our historic locations. The Commission is active in nominating properties to the National Register of Historic Places, which is our nation's honor roll of significant places in our history. One of our current projects will be restoring the old jail in downtown San Marcos. The Historical Commission also publishes books and brochures pertaining to the history of the county, a list of which are available on this web site.
---
HCHC Highlights
The Hays County Historical Commission wishes everyone a safe and Merry Christmas!
We know these are difficult times for everyone during the pandemic. The members of our county historical commission have struggled this year to continue with our historical research as libraries, research facilities and public records have been closed to the public for safety reasons. We continued to hold our meetings on Zoom rather than in-person, but had to suspend our museum hours. But we are looking forward to the New Year in 2021 when we can once again resume all our normal activities. The Courthouse Museum in the Hays County Courthouse in San Marcos will continue to be closed until further notice. The Kyle Railroad Depot and Heritage Center will also remain closed.
We so regret having to cancel our annual visit from Mr. and Mrs. Santa Claus at the Depot, but we promise we will be seeing them next year. Our volunteers have decorated the exterior of the Kyle Railroad Depot and Heritage Center (located at the northeast corner of Center Street and Front Street - next to the railroad tracks). We've added something new to the decorations each year. Last year, it was Santa Claus with his reindeer and sled arriving atop the historic caboose. This year, we added a Christmas Tree to the grounds. This is our small Christmas gift to all of you.
We invite everyone to feel free to visit the Kyle Depot grounds to enjoy the decorations, and use the decorated areas as backdrops for your holiday photographs. Christmas lights at the Depot can also be enjoyed from the safety of your home by viewing on the City of Kyle's live webcam on Spectrum Channel 10 or on YouTube.
We are confident that 2021 will bring a New Year in which our families and communities will once again be together. Merry Christmas and a Happy New Year to all the citizens of Hays County.
Kate Johnson, Chair
Hays County Historical Commission
katejhalifax@aol.com
---
HISTORICAL MARKER UNMASKED IN WIMBERLEY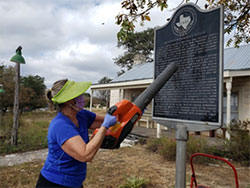 Bette Taylor

Jeannine Inbody
On November 13, a masked posse descended on Wimberley.  Their target was the Winters-Wimberley House: their mission to remove 20 years' worth of grime from its faded historical marker.  On a perfect day for restoration work, the clouds parted as the task was completed.  Glinting in the sun was silvery lettering once again clearly visible against a dense black background.
The restoration was a service project of the historic preservation committee of Jacob's Well Chapter, National Society Daughters of the American Revolution (DAR).  Historic preservation is fundamental to the DAR, so restoring markers in the local area made sense.  So far, the ladies of Jacob's Well Chapter have cleaned four other markers in the Wimberley area — Wimberley Cemetery, Schlameus House, John R. Dobie House, and Wimberley Mills.
Susan Evans, Jeannine Inbody, Jo Mitchell, Renee Norton, Marilyn Pierce, Joan Sabol, Bette Taylor, and Ann Wollam made up Friday's work party.  They had received their training in marker restoration at a workshop during a chapter meeting a year ago.  Armed with appropriate cleaning materials and black lacquer, their dual-purpose masks combating COVID-19 and residual dust from sanding, they tackled their task with gusto.
Once they have spruced up all the Wimberley markers, the ladies think they will branch out further into the county.  Kate Johnson, Hays County Historical Commission Chair, welcomed the news.  In thanking them, she described their ongoing restoration work "as a beautiful Christmas present to the Historical Commission."
The National Society Daughters of the American Revolution was founded in 1890 to promote historic preservation, education and patriotism. Its members are descended from the patriots who won American independence during the Revolutionary War. With more than 185,000 members in approximately 3,000 chapters worldwide, DAR is one of the world's largest and most active service organizations.  DAR members are committed to volunteer service having served more than 12.5 million hours in communities throughout the world during the past three years. To learn more about the work of today's DAR, visit www.DAR.org or connect with DAR on social media at facebook.com/TodaysDAR, twitter.com/TodaysDAR, and youtube.com/TodaysDAR. For more information on the local chapter, contact Laura Chalberg, Chapter Regent at jacobswellnsdar@gmail.com.
---
Upcoming Events
Kyle Railroad Depot & Heritage Center
100 N Front Street
Kyle, TX 78640-4172
512-262-1188
kyledepot@gmail.com
Open each Saturday of the month from 10am to 2pm, and for requested special tours
Historic Hays County Courthouse Museum
111 E San Antonio Street; First floor
San Marcos, TX 78666
512-393-2277
hayshistoricalcommission@gmail.com
Open on Tuesdays from 9:00am to 4:00pm and the second and fourth Saturdays of the month from 10am to 2pm.
Contact us to request special tours and study sessions for research purposes.