Welcome to Hays County Historical Commission
---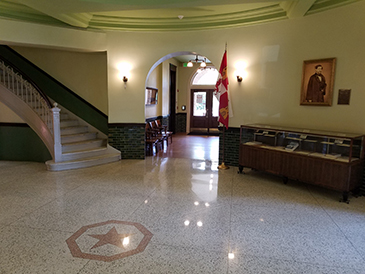 Next Commission Meeting:
August 27, 2020 6:00 pm
HCHC May Meeting will be virtual.
Citizens interested in RSVP to participate in August 27 virtual meeting can contact Vanessa Westbrook for details.
The Hays County Historical Commission is a group of volunteers appointed by the Hays County Commissioner's Court for a two year term to preserve the history and cultural resources of Hays County. In addition to implementing the State Historical Marker program of the Texas Historical Commission on a local level, the Hays Historical Commission is active in the preservation of area cemeteries and historical sites. Our purpose is to provide information to the public and educational resources on the significance of our heritage in Hays County.
Since its establishment in 1953, the Hays County Historical Commission has erected markers at important sites across the county, inventoried every cemetery in the county, and conducted a survey of our historic locations. The Commission is active in nominating properties to the National Register of Historic Places, which is our nation's honor roll of significant places in our history. One of our current projects will be restoring the old jail in downtown San Marcos. The Historical Commission also publishes books and brochures pertaining to the history of the county, a list of which are available on this web site.
---
HCHC Highlights
Both the "Historic Courthouse Museum" in San Marcos and the "Kyle Railroad Depot and Heritage Center" in Kyle are closed until further notice. We regret this inconvenience, but we must place the health and safety of our citizens first during these difficult times. The members of the Hays County Historical Commission are continuing their work and research remotely and virtually. If you have any questions, please contact Kate Johnson, HCHC Chair katejhalifax@aol.com
Sincerely,
Kate Johnson, Chair
---
Clear Springs and Limestone Ledges: A History of San Marcos and Hays County by G. Johnson, D.W. Kerbow, L. Simon, M. Storm, and F. Stovall has interesting historical information for great reading. For example, book two in the publication names black-owned businesses in Kyle, Texas during the early nineteen hundreds: Albert Taylor's Cleaning and Pressing Shop, John Sewell's Cafe, George Sewell's Grocery Store, Jeff Sewell's Barber Shop and Kirby Smith's Barber Shop. Rich in information about the cities in Hays County, this publication can be purchased at the Hays County Historical Commission, check the website or call the office.
---
Upcoming Events
Texas Cemetery Restoration Workshop- 48 State Tour with Jonathan Appell of Atlas Preservation
Jonathan Appell will be at the Kyle Cemetery in Hays County to give a FREE workshop on cemetery restoration and preservation. This is the Texas stop on the 48 State Tour (https://48statetour.com). Participants will learn how to clean, repair and reset gravestones & monuments. All precautions for social distancing will be made and the event will take place outside. Please RSVP - click here.
Please Note:
The Historic Courthouse Museum is closed until further notice.
The Kyle Railroad Depot and Heritage Center is closed until further notice.
---
Kyle Railroad Depot & Heritage Center
100 N Front Street
Kyle, TX 78640-4172
512-262-1188
kyledepot@gmail.com
Open each Saturday of the month from 10am to 2pm, and for requested special tours
Historic Hays County Courthouse Museum
111 E San Antonio Street; First floor
San Marcos, TX 78666
512-393-2277
hayshistoricalcommission@gmail.com
Open on Tuesdays from 9:00am to 4:00pm and the second and fourth Saturdays of the month from 10am to 2pm.
Contact us to request special tours and study sessions for research purposes.