Welcome to Hays County Historical Commission
---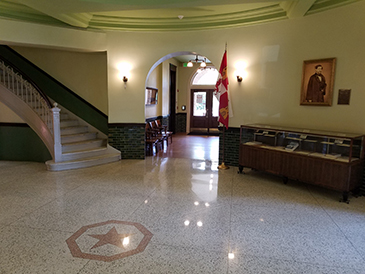 Next Commission Meeting:
Friday, February 28, 2020 - Driftwood, TX
The Hays County Historical Commission is a group of volunteers appointed by the Hays County Commissioner's Court for a two year term to preserve the history and cultural resources of Hays County. In addition to implementing the State Historical Marker program of the Texas Historical Commission on a local level, the Hays Historical Commission is active in the preservation of area cemeteries and historical sites. Our purpose is to provide information to the public and educational resources on the significance of our heritage in Hays County.
Since its establishment in 1953, the Hays County Historical Commission has erected markers at important sites across the county, inventoried every cemetery in the county, and conducted a survey of our historic locations. The Commission is active in nominating properties to the National Register of Historic Places, which is our nation's honor roll of significant places in our history. One of our current projects will be restoring the old jail in downtown San Marcos. The Historical Commission also publishes books and brochures pertaining to the history of the county, a list of which are available on this web site.
---
HCHC Highlights
Call it what you will - serendipity or a lost soul yearning for home!   Just before Christmas,  Martha Kinscherff related to the Hays County Historical Commission Cemetery Chair, Jo Landon, her discovery of a broken gravestone.  It was found among debris washed down York Creek on the former 101 Ranch near Kyle.  Jo, using an invaluable modern tool —Find A Grave ™, identified whom it belonged to and whence it came. It commemorates Margaret Clement who died on January 31, 1883, and was buried in Indianola Cemetery in Calhoun County, Texas.  Jo contacted the chairman of the Calhoun County Historical Commission, Robert Loflin.   Robert happened to be in Austin on January 4th, so arranged to pick up the stone. 
Robert was delighted, especially as his county historical commission is attempting to restore the  Indianola Cemetery which was largely abandoned after the devastating hurricane of 1886.  Margaret's stone will be reconnected to its base which still stands. 
Margaret Clement was born in south Texas on January 12, 1846, the daughter of English merchant, Robert F. Clement, and his Scottish-born first wife, Christina Wallace. Christina died while Margaret was still a little girl.  Her father then married her aunt, Margaret Wallace.  For the duration of the Civil War, her father and aunt/stepmother returned to Bath in England, leaving Margaret with her married sister, Sarah Burbank.   By the time Margaret died at age 37, the family was once again united in South Texas.
During the Civil War, Margaret was one of 12 young ladies who sailed out to Matagorda Island to present a Confederate flag to Captain J. M. Reuss' artillery company at Fort Esperanza.  Interestingly, one of the group was Eudora Inez Moore who later moved north to live with her niece, Maggie Kuykendall, on the 101 Ranch.  Perhaps this connection may hold a clue as to how Margaret Clement's stone found its way to the banks of York Creek. 
Inscription:
Sacred to the
memory of 
Margaret Clement
Born 
Jan. 12, 1846
Died
Jan. 31, 1883
"In the mansions of the blest."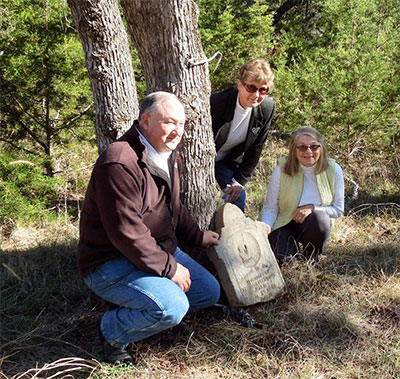 Robert Loflin, Calhoun County Historical Commission Chairman; 
Jo Landon, Hays County Historical Commission, Cemetery Chair;
Martha Kinscherff, steward at The Plant at Kyle.
---
Upcoming Events
January 5- 31, 2020 - Call for Artists' Work for Spring Art Exhibition
Hays County Government Center, 712 S. Stagecoach Trail, San Marcos Texas 78666
Click here to view Flyer (PDF)

February 10, 2020 - Spring Art Exhibition Reception
Hays County Government Center, 712 S. Stagecoach Trail, San Marcos Texas 78666
---
Kyle Railroad Depot & Heritage Center
100 N Front Street
Kyle, TX 78640-4172
512-262-1188
kyledepot@gmail.com
Open each Saturday of the month from 10am to 2pm, and for requested special tours
Historic Hays County Courthouse Museum
111 E San Antonio Street; First floor
San Marcos, TX 78666
512-393-2277
hayshistoricalcommission@gmail.com
Open on Tuesdays from 9:00am to 4:00pm and the second and fourth Saturdays of the month from 10am to 2pm.
Contact us to request special tours and study sessions for research purposes.