Edward Burleson, Soldier & Statesman
The hero of thirty battles who was never known to retreat. The story of General Edward Burleson and the early days of the Republic of Texas, statehood, and the founding of Hays County. 

HD-DVD 28-minutes, $18 including shipping


Col. Peter C. Woods
Country Doctor/Cavalry Officer/Public Servant
This is the story of Peter C. Woods, who came to San Marcos in 1851, started a cotton plantation and decided to form the 32nd Texas Volunteer Cavalry, C.S.A. during the Civil War. He was a physician who survived the war and lived the rest of his life as a country doctor and helped develop San Marcos and Hays County. 

HD-DVD 38-minutes, $18 including shipping


101 RANCH, THE STORY OF THE KUYKENDALL FAMILY
This is the story of the largest ranch in Hays County and the family who ran it for over 60 years. Two strong women, a mother and her daughter and children ran thousands of head of cattle, horses and sheep on over 11,000 acres of hill country property. 

48-Minutes, DVD-HD, $18 including shipping


HAYS COUNTY IN WORLD WAR II
Find out what life was like in Hays County in 1941 and hear the stories of Hays veterans who were sent to all points of the world. 

DVD 52-minutes, $18 including shipping


VOX POP, The Story of Parks Johnson
Step back into the Golden Age of Radio and learn the story of Parks Johnson during the 1930's and 1940's as his VOX POP Program is created and goes on NBC and CBS. Parks Johnson retired to Wimberley, Texas in 1948 and spent the next 20 years with his wife Louise in building the community.

66-minutes, DVD-HD, $18 including shipping


LARGER THAN LIFE, The Story of Buck Winn
A documentary on Buck Winn's (1905-1979) contribution to the world of art, bas-relief sculpture and architecture. This is the first complete coverage of his work from around the Southwest.

60-minutes, DVD-HD, $18 including shipping


Captain Jack, The Story of John Coffee Hays
A documentary on the life and times of Texas Ranger Captain Jack Hays. Step back into the 19th century and experience the Texas Frontier.

DVD, 28-minutes, $13 including shipping.
 
VOICES OF HAYS COUNTY HISTORY
A series of oral history documentary videos on people from around Hays County

DVD format, 25 to 30 minutes each.
Ofelia Vasquez-Philo, San Marcos
Moe Johnson/Bob Barton, Kyle & Buda
Bradley Davis, Dripping Springs
Gwen Smith, San Marcos
Ollie Giles, San Marcos
Bill Johnson, Wimberley
Ray B. Wilson, Driftwood
Winnie & Minnie Harper, Buda
William B. Cochran, Dripping Springs
Cecil Clark, Buda 
Mary Giberson, Buda
Travis Garnett, Dripping Springs
Driftwood School Memories
This selection of edited oral histories with residents around Hays County is now available. Please select which one you would like and fill out the order form. 

DVD, 28-minutes, $13 including shipping.
 
Clear Springs and Limestone Ledges; A History of San Marcos and Hays County
Widely regarded as a starting point for study of any Hays County history-related topic, this 1986 Texas Sesquicentennial publication represents the combined work of Hays County Historical Commission members Frances Stovall, Dorothy Wimberley Kerbow, Maxine Storm, Louise Simon, Dorothy Woods Schwartz, and Gene Johnson, with photographic work by Cindy McCoy. Dedicated to longtime Hays County Historical Commission Chair Tula Townsend Wyatt, the 645-page (index included) book documents the county through major sections on San Marcos, Kyle, Buda, Dripping Springs, and Wimberley and their related smaller communities. An index is provided.
This book was re-published in 2007 and is hardback. 

Price $45. Plus shipping.
 
People and Places in and Around Historic Buda
Buda historians Mary Giberson and the late Barbara Younts amassed a legacy during the 1990s, among other things, over a hundred vignettes on local history on characters and places of this northern Hays County community. The research pieces were originally written for the Hays County Free Press and subsequently collected under one cover in 2003 for this Buda Economic Council-funded project. The stories within run from tales of the Allen Cemetery to the I G & N Railroad and the early Onion Creek Post Office. Published by the Hays Free Press, the book stands as the single most important collection of local history on Buda and its immediate vicinity—a must for researchers and those interested in this area's fascinating history.

hardback: $40, softcover: $20
 
Echoes in Your Memories of San Marcos Baptist Academy
For over 100 years, San Marcos Baptist Academy has offered a unique educational experience to students from around the world. The rich history of this college-preparatory boarding and day school, from its founding through the late 1980's, was documented by Jean Akridge Shand in "Echoes in Your Memories of San Marcos Baptist Academy." Published in 1990 when Mrs. Shand was a member of the Hays County Historical Commission, "Echoes" provides detailed information about the Academy's presidents, its original campus and current campus, and the many military, athletic, religious and student life traditions that make the school unique. The book includes a bibliography, endnotes and index for easy reference.
8 left with SLIGHT BINDING ERROR

hardcover: $20.00

 
History of the Coronal Institute
The success of the Coronal Institute, an early private school founded in San Marcos, TX in 1868 by Orlando Newton Hollingsworth, a former Confederate officer was largely attributed to the yellow fever epidemic which was rampant at the time in Texas and lower southern states. 
Coronal Institute opened and advertised San Marcos as "high and dry with an unusual healthful climate." It was the pride of San Marcos, situated on a hill overlooking a valley on one side and snuggled up to the Texas Hill Country on the other.
Coronal Institute's first building at the corner of Moore and Hutchison Streets and was destroyed by fire in 1890. A new three-story building soon replaced it, with the addition of Rosa Kendrick Hall by 1896. Fisher Hall was constructed in 1906 on a nine-acre lot at 1132 Belvin Street as a boys' dormitory.
The school closed in 1918 and the main buildings were torn down, although Fisher Hall on Belvin Street went on to become a hospital, American Legion Post, San Marcos Baptist Academy boys' dormitory and fraternity house before it burned and was razed in 2007.
An insightful glimpse of an early private school from 1866-1918 with personal memories, a list of Methodist ministers, faculty and students who lived and studied at old Coronal is preserved in this book, which was compiled by Herschel C. Walling and published by Hays County Historical and Genealogical Society in 1991.

Price $35. Plus shipping.

 
Hays County, Texas Cemetery Inscriptions, Vol. I
The culmination of an intensive county-wide search for every known burial site, this work by Hays County Historical Commission members Jo Ann Elam Hearn and Dorothy Wimberley Kerbow was published in 1988 and revised in 1994. To this day, it remains THE most comprehensive study done on all Hays County cemeteries (with the exception of San Marcos Cemetery) or burial sites known at the time of publication. Each of approximately 80 sites are described—and their known histories related—as Hearn and Kerbow found them in the mid to late-1980s (with some updated revisions in 1994). The book includes a full alphabetical index of all tombstone inscriptions, including cemetery of origin.

Price $20. Plus shipping.

 
Hays County, Texas Cemetery Inscriptions, Vol. II
Hays County Historical Commission members Jo Ann Elam Hearn and Dorothy Wimberley Kerbow completed and published this comprehensive history and inventory of San Marcos Cemetery inscriptions in 1990. Included with the full alphabetical index of all 4764 names inscribed on tombstones as of 1990 is a diagram of the cemetery's physical lay-out. This diagram is keyed with a locating code, keyed to the inscription index, allowing for easy location of specific grave sites. It is a MUST for anyone researching (or searching) grave sites within the City of San Marcos.

Price $20. Plus shipping.
 
Suenos y Recuerdos del Pasado; Dreams and Memories of the Past
A Community History of Mexican Americans in San Marcos, Texas
Published in 2000 after an exhaustive effort by the Hispanic Historical Committee of the Hays County Historical Commission, this book chronicles every aspect of Mexican-American life and culture in San Marcos. Its major chapters include The Early Years, Work and Business, Cultural Life, The Struggle for Equality, and a compilation of 32 local oral histories done by Committee members Velia Cavazos, Yolanda Espinoza, Soila and Richard Rodriguez, Frank Saucedo, Angie Tobias, and Ofelia Vasquez-Philo. The book offers sadly missing documentation of the city's vital Mexican-American community.

Price $20. Plus Shipping
 
The Complete History of Dripping Springs, Texas, and the P.A. Smith Survey
Author Carl Waits writes in the preface of his 2003 Nortex Press work that he hopes "the natives, as well as newcomers get as much enjoyment out of finding out about the history of Dripping Springs and the P.A. Smith Survey (as best I can tell) as I did in gathering it." It is safe to say that "the natives" and "the newcomers" are, in fact, in for an enjoyable ride through the history of this area of Hays County when reading this fascinating book.
The retired 30-year veteran of coaching in Dripping Springs ISD began his collection of local history in 1990 with the notion he could complete a video history of his adopted town in a few months. Fortunately for those who study the town and area, that compact little project grew into something much more time-consuming—and substantial. The end result is a major accomplishment of research, interviewing, and the collection of local lore too soon—and in many cases, already—forgotten.
The history is divided into three major parts, the first titled "The Beginnings" and capably dealing with genealogy, the history of Dripping Springs, and a full range of the town's buildings, businesses, and houses. Part 2 is an exhaustive review of land ownership and maps. Part 3 takes on the specifics of the good people, churches, and schools of Dripping Springs.
The Waits work is essential, first-stop reading for anyone researching—or with a simple love and interest in--its Hill Country subject matter.
Price $45. Plus Shipping
Hays County Courthouse Sesquicentennial Commemorative Print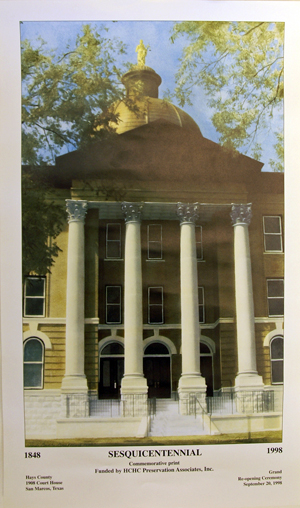 Price $10, or 3 for $20.
To place an order, download the mail order form.
---
If you do not already have Adobe Acrobat Reader, you may obtain it by clicking here.