Kyle Railroad Depot & Heritage Center
---
Visiting the Kyle Railroad Depot & Heritage Center provides opportunities to experience a typical day at a train depot by walking through the building and examining artifacts from 1917 to 1965. Photos below show the late Ralph Randow, former docent for the depot, demonstrating how a train whistle sounds.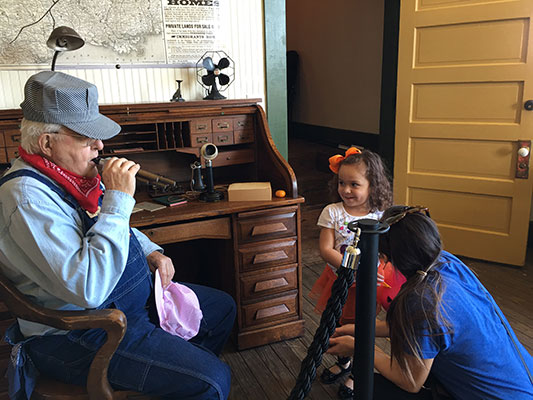 ---
The Kyle Railroad Depot & Heritage Center is open on Saturday from 10am to 2pm. Special arrangements can be made for visitation by calling 512-262-1188, or emailing kyledepot@gmail.com.
Inside the 1917 building, visitors will find two waiting rooms with period furnishings and a documentary video of the establishment of Kyle, Texas by the International & Great Northern Railroad. The land for the city was purchased at a land auction in 1880.
Experience the station master's office restored back to yesterday and hear an audio presentation with train announcements and station master comments that help create the realistic feel of the train station.
Inside and outside of the railroad depot provides visitors with an authentic experience in an historic treasure of Hays County.

click to view larger