Historical Marker Committee
---
TIME TO APPLY FOR 2021 HAYS COUNTY HISTORICAL MARKERS
Historical markers are visible reminders of the rich history of the state of Texas, serving as valuable aids for education and heritage tourism. These markers are the property of the Texas Historical Commission (THC) which began the program in 1962.
The most visible signs of the work done by the Hays County Historical Commission (HCHC) are the distinctive metal markers dotted across the county. They record the fascinating history of Hays County and are valuable aids for education and heritage tourism. They are the property of the Texas Historical Commission (THC) which began the program in 1962. Hays County has been awarded 154 of these markers. The first was for the Major Edward Burleson Homestead on Lime Kiln Road, San Marcos, dedicated on November 3, 1962. The most recent is for the William B. Travis League.
TYPES OF HISTORICAL MARKERS
At the present time, there are four types of markers.
RECORDED TEXAS HISTORICAL LANDMARKS (RTHL)
These are awarded to buildings and structures judged to be historically and architecturally significant. The buildings must be over 50 years old. RTHLs help with the preservation of such buildings.
SUBJECT MARKERS
These deal with people and events rather than structures. Most topics must date back 50 years, but historic events may be marked after 30 years. Individuals may be mentioned 10 years after their deaths.
HISTORIC TEXAS CEMETERY MARKERS
In order to apply for a cemetery marker (basically a subject marker), a cemetery must first be designated as a Historic Texas Cemetery (HTC). This designation can be applied for at any time of year.  Such markers are helpful in preserving small family cemeteries dotted around the county.
UNDERTOLD MARKERS
These do not require full documentation at first and may be applied for directly to THC or through HCHC. They are intended to address historical gaps, promote diversity of topics, and proactively document significant underrepresented subjects or untold stories. They are paid for by non-refundable application fees levied on all other markers. THC only awards about 15 undertold markers each year. Hays County has been granted a total of four — Antioch Colony, Eddie Durham, Jacob's Well, and Alba Ranch. This year's undertold marker application forms will be available on THC's website in August 2021, and should be submitted between October 1 and November 15, 2021, either directly to THC or through HCHC.
Full details about the marker program (including the costs involved), application forms, and explanation of application process can be found on the THC's website.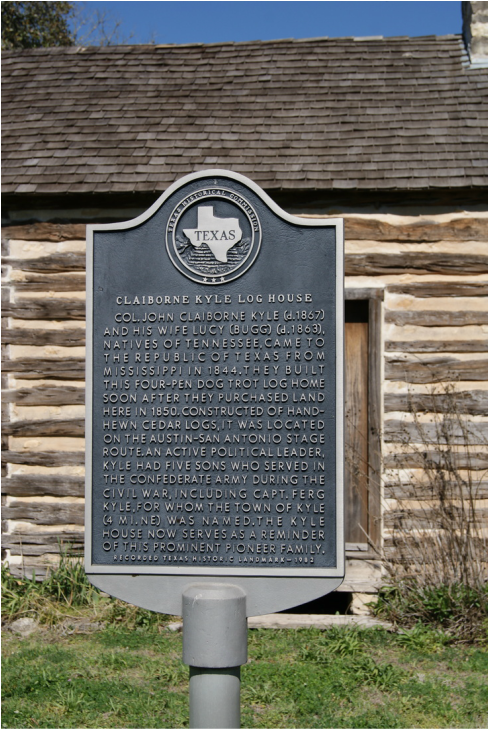 ---
HOW TO APPLY FOR AN HISTORICAL MARKER?
THC provides a recording with instructions for applying for an Official Texas Historical Marker for your community...listen to the recording here.
THC's free workshops and webinars provide an overview of important historical research fundamentals, as participants walk through a sample historical marker application and sample narrative. The presentations encourage consideration of the elements which comprise successful marker applications. Topics include historical significance and integrity, conducting research, primary vs. secondary sources, research tools, writing the narrative and the roles of the THC and county historical commissions (CHCs) in the application process.
To sign up for an upcoming workshop, please contact the History Programs Division at 512-463-5853 or history@thc.texas.gov.
---
Calaboose Marker Clean Up
Springtime always brings the urge to do some sprucing up.  That is exactly what the San Marcos Main Street Program team has done.  Some time ago, they had decided to restore the historical markers downtown.  As a result, the marker at the Calaboose African American History Museum has been returned to its pristine glory.  Freddy Medina, Administrative Assistant | Main Street, said, "We are very pleased with the end results and are so grateful for the opportunity to save a piece of our local history."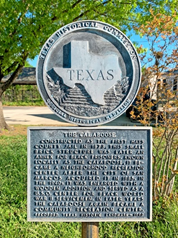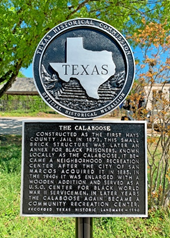 Before/After Cleaning
In undertaking this project, the Main Street Program team has performed an important service for the Hays
County Historical Commission (HCHC) and the Texas
Historical Commission (THC). 
We would like to thank them for their efforts.  
Refinishing historical markers is extremely rewarding and leads to a deeper appreciation of the rich history of Hays County.   It is a good volunteer project for civic groups to undertake.  Full instructions, including a "how-to" video can be found at the THC's website.   Although the markers are the property of THC, it should be noted that, if the marker is on private land, the owner's permission should be sought before stepping onto their property. 
The Calaboose Historical Marker, awarded in 1990, was an example of the smaller size offered by THC. Currently there are two sizes of historical markers. For 2021, the cost for the smaller size which measures 18' x 28' is $1,175 with or without post. The larger marker which measures 27' x 42" is $1,875 with a post or $1,675 without a post.
Photos are provided by Main Street | City of San Marcos
Submitted by Marie Bassett, Chair
Historical Markers Committee